Advertising Options
We feature both display ads and text only ads in the magazine.
Display Ads
To advertise, you may use the Advertising Order Form. Complete it on-line and submit to us for immediate processing (you can also print a copy for your records).
We can design your display ad for you (design charges of $65.00/hour may apply). If you design your own ad, we accept the following formats:
PDF (preferred)
TIFF
JPEG - Images should be 300 dpi.
DOC, DOCX(Word)
RTF (Rich Text Format)
ODT (Open Office)
PSD, PS (Photoshop)
See our blog posts for articles on Design your Ad, Creating your Ad and much more.
See our Rates and Publishing Schedule pages.
Market Place Ads
Market Place features text only ads for services, upcoming events, workshops and merchandise that target the readers of the Island Arts Magazine. The ideal way to get your message out at an affordable price.
Placing an Ad
Please complete our Market Place on-line form and pay via credit card (the fastest way to ensure it makes the next issue). Payment is via secure PayPal. You can use Visa, MasterCard, Amex, Discover or E-check. You do NOT need a PayPal account.
Artist's Calendar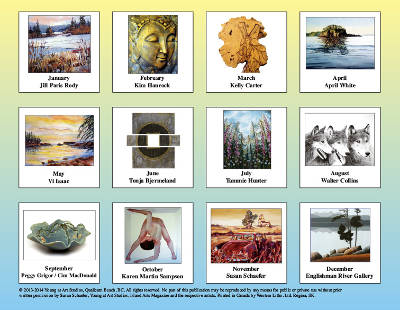 The Annual Island Arts Magazine Artist's Calendar comes out in the fall. This full colour high-gloss calendar is a great marketing tool.
The calendar is a 12 month high-gloss full-colour, 8 1/2" x 11" calendar (opens to 11x17) highlighting artists of the West Coast. Each month depicts the work of a different artist along with a short biography.
Thanks for the lovely Island Arts calendar. What a great way to celebrate a year!
—Nana, Nanoose Bay, BC.
The artists pick their months on a first come, first serve basis. Calendars are distributed by the various artists.
Demand for a space was high last year, so book your month for next year NOW.
Contact Us if you wish to participate.
Email Blasts
An effective marketing tool: How they work?
If you have an art related message or announcement (upcoming show, workshop, call for artists, etc.) that you would like to promote, we can send out an Exclusive E-Mail Blast . We will set your message up and send it to 600+ members on our mailing list.
These can be done at any time, usually within a couple of days. The cost for this service is $65 + GST.